To Stories

'Infection radar provides insight into the need to spray'
Many farmers apply their crop protection products following a strict spraying scheme. However, it is also valuable to look at the infection pressure. "With this you can quickly save on one and sometimes several sprayings per year," says Gert Sterenborg, arable farmer and product owner at Dacom. With the infection radar, Dacom offers a useful tool for this. 
As a farmer, Gert Sterenborg knows it is valuable to have insight into the infection pressure. "This allows you to better determine whether your crops are sufficiently protected." Together with his parents, the entrepreneur runs the Sterenborg farm in Ontswedde, the Netherlands. On the arable and poultry farm, starch potatoes, sugar beets, grain, onions and winter field beans are cutlivated. 
The Dacom Disease Management module is used during the growing season. "This gives you very specific advice about whether or not to spray," says Sterenborg." The advice is based, among other things, on crop growth, the emergence date and spray applications in the past. It is a very accurate advice, but the disadvantage is that, as a farmer, you have to enter a lot of data. In that regard, the infection radar provides a good alternative. The infection radar in the Netherlands can be consulted via Boer&Bunder and is very easy to use. In the infection radar you can see how high the expected infection pressure is all over the Netherlands." The infection radar can also be used in other countries.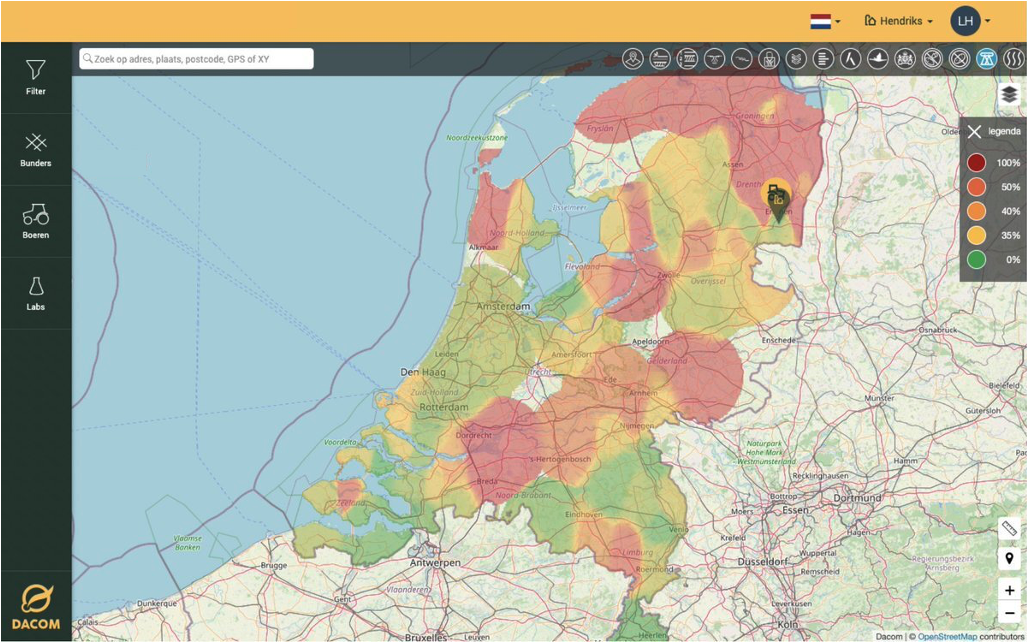 Weather stations and forecast 
The data on which the infection radar is based, is produced by the weather stations that Dacom has spread in a network across the Netherlands. The network concerns several weather stations per province that cover an area with a radius of 20 kilometers. Besides the actual weather, the weather forecast also influences the infection radar. Sterenborg: "For example, it may be that the chances of infection throughout the Netherlands are low today, but that in two days time there will be an increased risk of infection from Phytopthora in the south. Then it is useful for farmers and advisers in this region to look into to what extent the crops are protected."

Beneficial for your wallet
The infection radar is interesting for a wide variety of crops, including sugar beets, potatoes, onions, chicory and carrots. Every crop has to deal with its own diseases and pests of which it is interesting to know how high the infection pressure is. "Sometimes you can postpone a spraying with that. For example, if you stick to a certain spraying schedule, but you see that the infection pressure is low the coming days. That's not only more sustainable, but also financially attractive."
Meer Farmlook updates
Try our products for free
Try out our products for 30 days
Create account